Lot of 6 Andre Norton Sci Fi Vintage Paperback Books 1960s 70s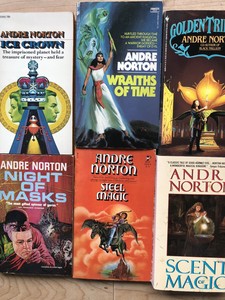 ---
This is a collection of six vintage paperbacks by Andre Norton from the 1960s to 1998. All have clean pages and tight bindings. See below for list of titles and additional condition notes:
1. Golden Trillium, 1994, Bantam
2. Steel Magic, 1967, Arch. There is a water stain on the opening pages (see photo) and a name written in pencil inside the front cover.
3. Wraiths of Time, 1976, Fawcett
4. Night of Masks, 1964, Ace
5. Ice Crown, 1970, Ace
6. Scent of Magic, 1998, EOS
Standard shipping is free in the USA. Thanks for looking and let me know if you have any questions.